Do you wonder if advertising with video banners would be beneficial for your company? Or if video banners are beneficial at all? Then you need to read this guide. We have completed a small introduction to what a video banner is and why you need to invest in them.
What is a video banner?
The internet is stuffed with display ads. There are banners everywhere trying to get the consumers' attention – some with success and some without any success. The ones who stand out from the pile of display ads are often video banners. A video banner has a video incorporated that and try to catch the consumer's attention through moveable pictures – like commercials on TV. Both channels expose the audience for moveable pictures, but the big difference is the agility and the possibility to measure the performance. With video banners, you have the possibility to measure exactly how many people who have interacted with your ad and hereafter optimize your banner to better the CTR. Video banners give you lots of freedom as well. You can change all content in a banner as you like. That is impossible on TV. When you run a campaign is impossible to change the content. With this said, TV is not useless, but it certainly minimizes your freedom.
Why use video banners?
If you wonder if video banners are just a trend, that will disappear soon, you are very wrong. Since 2018 the use of video banners has risen by 25%. The marketers are investing a lot in video ads the recent years. The marketers recognizes, that video banner can be an effective way to communicate the message and are investing in it. Underneath you can see an infographic showing the development in video banners the last 3 years.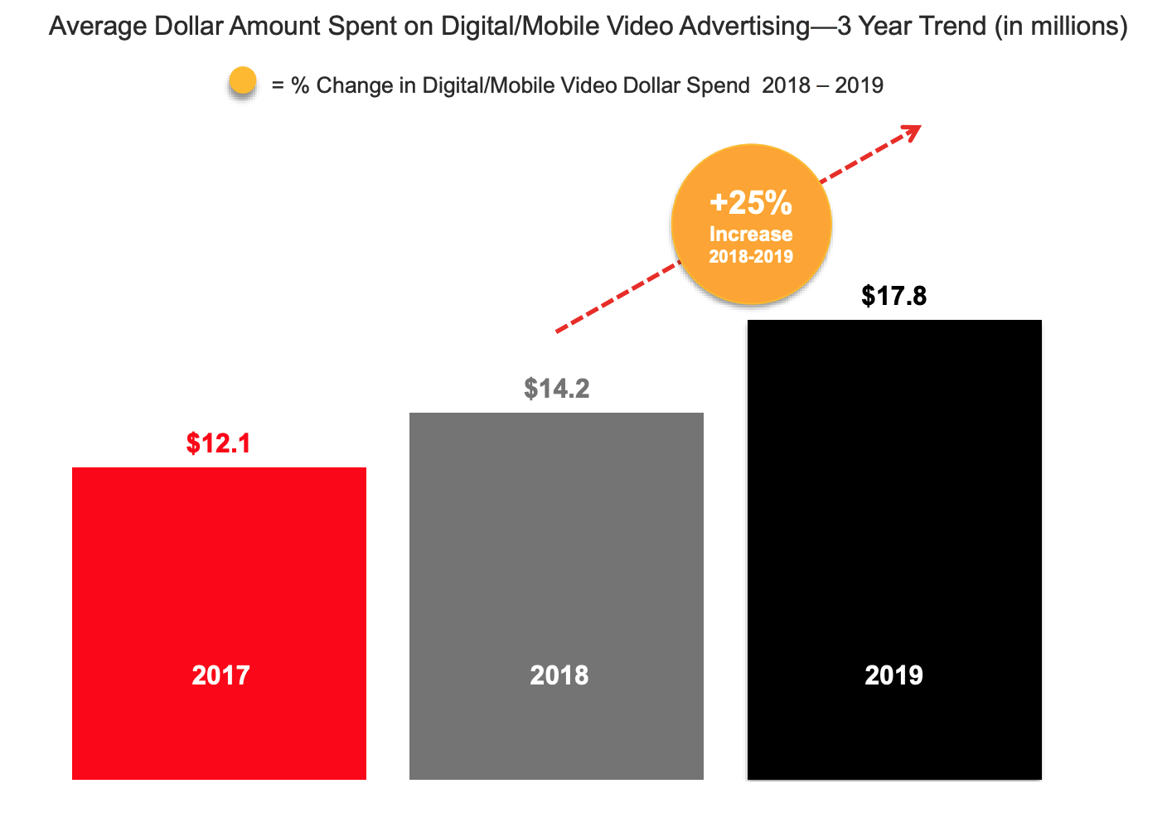 In the last three years, there have been overweight in producing video banners for desktop. But in 2019 the production is aligned on all three media. Probably since the use of mobile devices is rising, there will be a slight overweight in mobile video banners in the forthcoming years – but that is just educated guessing.

There is a clear trend in consumer behaviour regarding online marketing. The consumer likes watching online vides, in fact, the like it so much, that they watch over an hour of video marketing every week, and this is just on Youtube and Facebook (source).
Unfortunately, video banners have been difficult and expensive to produce. You either need to be a coding champ or pay an agency a large pile of money to produce them for you. But the technology has turned this upside down. Banner builders have made it possible for everyone to make a premium video banner.
In the next section, we will show you just how easy you can make a video banner
How to make a video banner
Luckily, it's very easy to make a video banner in Zuuvi. You can actually make it in just a few minutes. The process with uploading video to your banner is simple and the same way your uploading a picture to your banner. The difference is minor.
What do I do from here?
If you have any videos of good quality in your marketing material, it might be worth trying to use it in a video banner. You just need to find a supplier, that can help you create a html5 banner. This could be an agency or a banner builder – like Zuuvi. When you have your banner, publish it. Go through the data and see if the new banner has a positive effect on your online marketing. Nevertheless, video banners are excellent for telling a story or presenting your brand in a new way. We hope that you want to give video banners a go. Have fun!