The decision to insource or outsource creative production is not one-size-fits-all. Consider your specific project needs, budget, and team size when making your choice. Don't forget that Creative Design Platforms can bridge the gap, offering the best of both production worlds.
---
Picture this: you've just been tasked with creating a slew of digital ads to promote the next seasonal campaign. The pressure is on, and the big question looms – should you handle creative production in-house or outsource it? It's a dilemma that often keeps marketers up at night, and we get it.
In this article, we're diving deep into the pros and cons of both insourcing and outsourcing when you create digital ads. Furthermore, we're going to show you when it's better to keep production in-house or go to an agency, and how to avoid some insourcing drawbacks.
It's gonna be quite a read: buckle up!
Insourcing: Pros and Cons
Pros
Insourcing allows you to retain control of your creative process, make fixes mid-production quicker, and collaborate more smoothly. This allows you to build or retain brand consistency, and to cut down costs in the long run.
High Degree of Control. Insourcing gives you complete control over the creative process. You're the captain of your creative ship, steering it in the direction you see fit.

Close Collaboration. Working in-house means you're always a few steps away from your creative team. Collaboration is seamless, and ideas can be born, executed, and tweaked in the blink of an eye.

High Brand Consistency. Keeping creative production in-house ensures that your brand's look and feel remain consistent across all campaigns.

Deep Business Understanding. Your in-house team is immersed in your company's culture and goals. They're more likely to intimately understand your business's unique needs.

Long-Run Cost Efficiency. Without the back and forth of production outsourcing, your team can specialise in and speed up ad production. This allows you to retain production quality and save on outsourcing fees.
Cons
However, insourcing can be slow, expensive, and not flexible in the short run. In addition, it may cripple your in-house marketing capabilities, and you may not be able to adapt to sudden production requests or tight deadlines.
Start-up barriers. Insourcing can be costly and time-consuming at the beginning, from hiring and training to managing the day-to-day operations of your creative team.

Talent Retention. Attracting and retaining top creative talent can be challenging. The best minds in the industry are in high demand.

Expertise Gap. Your in-house team may not possess all the expertise required for every creative project, potentially limiting your creative options.
Does that mean insourcing is never the solution in the short run? Not necessarily. From a strategic perspective, insourcing is the way to go if you're planning to run recurring campaigns.
Furthermore, there is a way to make your marketing team more efficient, creatively charged, and faster without outsourcing parts of it…more on that later.
Outsourcing: Pros and Cons
Pros
Then, is outsourcing the answer? That depends on your production needs.
Outsourcing is extremely useful if you need some quick creativity for hire; when you need to scale ad production due to sudden production requirements; have tight deadlines; and when you lack the technical expertise to produce the ads you need.
Flexibility. Outsourcing is the most flexible production solution. Don't have the skills for a particular ad? Outsource it. Are you on a tight deadline and need more production muscles for a short while? Outsource it.

Access to Expertise. Outsourcing allows you to tap into the vast pool of creative talent you might not have in-house, without the need to hire someone full-time. For example, if you need a motion graphics designer or a video producer for a standalone campaign, outsourcing can be a great option.

Pop Your Creative Bubble. Let's face it: sometimes you need to step out of your creative comfort zone. And going to a creative agency can be a perfect way to do just that. Adding an extra pair of eyes to your ad production will help you think outside the box and produce radically different creatives.

Low Start-up Barriers. Outsourcing allows you to get started quickly. You can have a creative team onboard in days rather than weeks, and they can hit the ground running with little to no training.
Cons
And yet, the flexibility offered by outsourcing comes with a price. Indeed, fully outsourcing ad production may be very expensive in the long run, and it can create communication challenges that will affect your advertising quality and brand identity.
Brand Consistency. Maintaining brand consistency can be challenging when different teams handle your creative projects.

Communication Hurdles. Coordinating with external teams can sometimes lead to misunderstandings and delays in project timelines.

Long-Term Costs. While outsourcing may seem cost-effective initially, long-term expenses can add up, especially for ongoing projects. This may impact your ad production significantly the more this becomes a key component of your marketing activity.

Limited Control and Slower Turnaround. You may have less control over the creative process, and turnaround times can be slower due to communication gaps.
When is it Better to Insource or Outsource?
Question for the ages. Is it better to insource or outsource?
The answer depends on your ad production needs. For the sake of simplicity, we have prepared a table below that should help you decide when you choose between insourcing or outsourcing.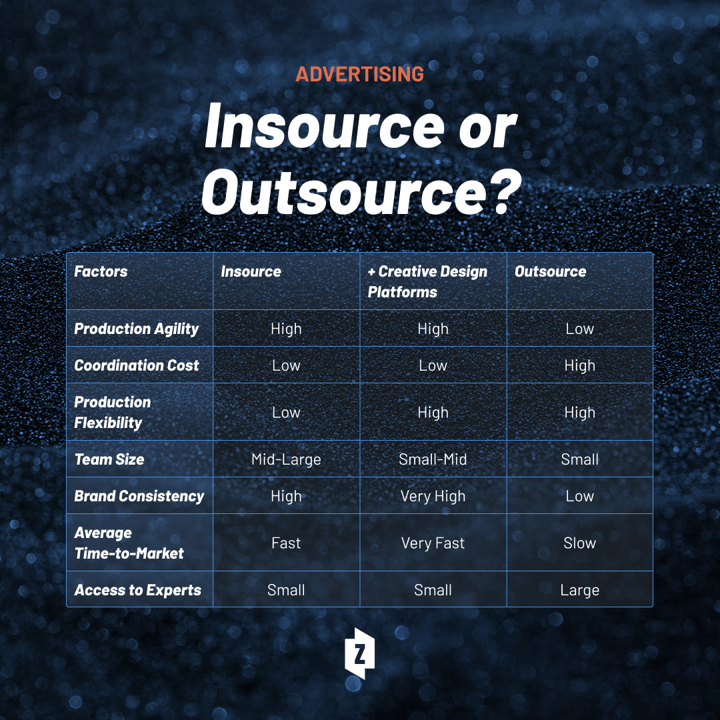 Creative Design Platforms: The Best of Both Ad Production Worlds
What if I told you there's a third option that allows you to get the best of both production worlds while keeping all ad production in-house?
Creative design platforms can overcome many of your insourcing challenges.

Streamline Creative Production. With a creative design platform, you can optimise your team resources, and generate 100s of ads using just one designer-produced template and a sheet containing the elements of your ads. This allows your team to cut down ad production time by up to 90%!

Enable Real-time Collaboration. if your entire team works on the same platform, they can communicate, create, edit, and produce ads in real time.

Unlock More Ad Production Power. Since most creative design platforms are very easy to operate, even marketers with basic design skills can contribute to ad production, helping your team unlock more resources with no design quality loss.

Reduce Coordination Costs. When all your assets and templates are in one place, your team can create different ads extremely easily, without the risk of stepping out of your brand guidelines.

Enhanced Management Features. some creative design platforms offer end-to-end advertising solutions. That means you can create, edit, publish, and track your ads from the same platform. This further trims execution time, allowing you to make live edits on your ads across formats without the need to export/import them on different platforms.