This guide will give you an introduction to what an interactive banner is and how interactive banners can help your business increase its performance.
What is an interactive banner?
An interactive banner allows the consumer to interact with your banner – it can almost be a mini-website if you want it to. This is possible due to HTML5 coding, why you either need to be a coding nerd or use a banner-builder to create one. With interactive banners, the consumer can click on different buttons that allow them to explore your product or brand. You can, for instance, insert small arrows, that allow the consumer to click on them and discover new products. The main thing is, that these small interactive element does not lead to your landing site. You keep the consumer on the current website, but they still have the possibility to get exposed to more products.
Interactive banners, in other words, are; 'the next step within display ads'. It used to be only for the few but due to the development within frontend coding, you can now use banner-builders that are pretty much just drag and drop systems and very intuitive.
The 3 best interactive elements
So what elements are then the best? That depends entirely on what purpose your banner serves. Here we will give you three examples of good interactive elements and explain why they are good in these specific situations.
The classic arrows

This example presents your consumers for a very intuitive banner. The consumer can click on the arrows and thereby explore the different products that are on a discount.
This is a good possibility if you don't want to squeeze too many products into your banner. This can be a very good decision if you don't want to overwhelm the consumer. Banners are usually not that large, why it can seem confusing to the consumer if you put too many products on display.
If you banner changes frame after a couple of seconds, the arrows will allow the consumer to go back, if they missed the product or want to see more. This will also help to direct consumers to the right landing page and will thereby increase your conversion rate.
Arrows are excellent for narrow banners that often occur in the top of various websites.
Click and explore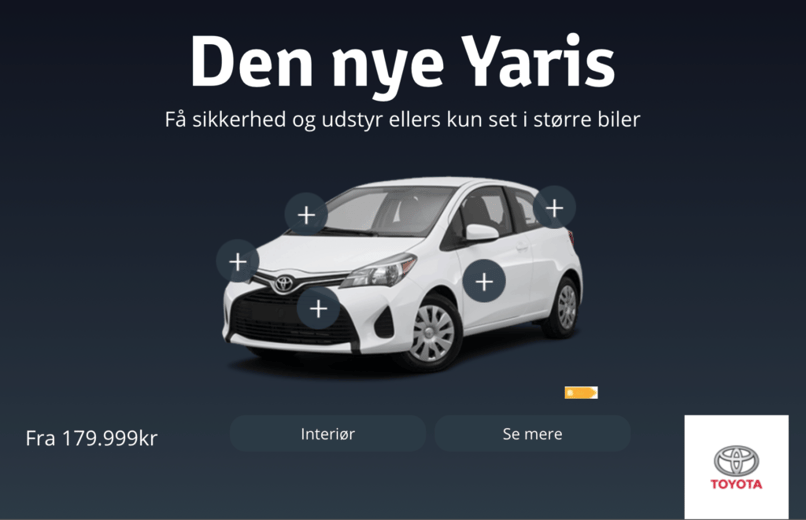 Click and explore is a way to present your product with even more insights but still keep your banner simple. In this example, Toyota has used an interactive banner to give deep information on the different parts of their new car. You can click on the engine and a text will pop-up. It's a very simple and effective way to keep you banner elegant even though, there is a lot of information in it.
This banner is perfect for you who want to give a lot of insights but do not want to compromise with the aesthetics.
Video & Gallery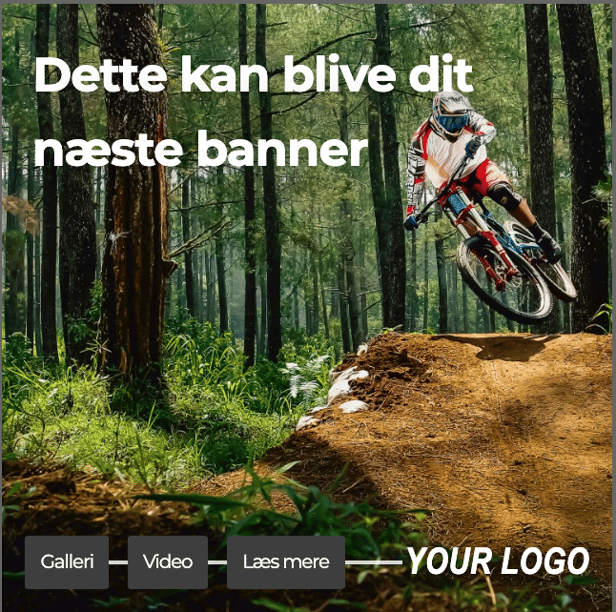 The third and last interactive banner, that will be presented is a banner that includes video and gallery. It very common that video and pictures perform very well in online marketing. But it can be difficult to integrate more than one picture and videos if you don't make your banner interactive. It can create a lot of value for you and your audience when you expose them to different pictures of your products and/or brand. A brand video will make it possible to express your message with greater effect.
Use these possibilities to catch the consumers' attention and direct them into your landing site.
Advantages with interactive banners
But… What are the overall advantages of interactive banners? We have defined what an interactive banner is and how you can create value for your company by using them correctly.
Here we will list some of the main advantages:
Increases CTR
Increases unique visitors
Possibility to display more products
Integrate video and galleries
Simple but with deep insights
Your products on display can be revisited
Aesthetic banners
Brand differentiation