In the world of design and creativity, collaborations between innovative platforms and forward-thinking agencies often yield remarkable outcomes. The partnership between Zuuvi, a cutting-edge design platform, and Zeit Agency, a dynamic creative agency, exemplifies the strength of synergy in driving innovation. This blog post dives into the insights shared by Alexander Augustesen, CEO of Zuuvi, and Michael Lyder Andersen, CEO of Zeit Agency, as they shed light on their successful partnership and the journey that brought them together.
What are the biggest challenges for digital marketers in producing digital creatives?
In the ever-evolving landscape of digital marketing and creativity, the challenges of crafting impactful digital creatives are myriad. Let's hear how these challenges are navigated in the words of the CEOs:
Michael Lyder Andersen, Zeit Agency:
In my opinion, some of the challenges are:
Keeping up with the latest trends. The digital marketing landscape is constantly changing, and digital creatives need to keep up with the latest trends to create effective campaigns.
Creating content that stands out. There is a lot of noise in the digital world, so it can be difficult to create content that stands out from the crowd.
Budget allocation. What is the perfect split or allocation? Should you prioritise the brand, the activation, which channels, what to take in-house and what to outsource? In my perspective the creative work should be prioritized, so we don't pollute the online marketing channels with more junk than there already is.
Lack of in-house expertise. Not all businesses have the in-house expertise to create effective digital creatives.
Measuring the effectiveness of creatives. And what are the measures? Attention, Clicks, Views, Conversions, Brand Affinity, Uniqueness, creativity, likeability or something entirely different. So a revised common language for what "works" could be cool.
Alexander Augustesen, Zuuvi:
The global market for digital content production is valued at 13.8b dollars, at will increase by 12% in 2023. We have sat front row of an interesting development that, at its core, consists of increasing demand for digital creatives across all digital channels.
With cookieless and the absence of 3rd party data, digital marketers are challenged in making the most accurate budget allocations.

If the feedback loop we know from the past - where we easily could see which creative performed the best - is up for debate, will the answer by default be - that we need better and more creatives, and we need it fast. Therefore the creative and performance departments should be ready to break down the silos and work close among the same shared goals.

The biggest challenge for not only the digital marketer but digital marketing, in general, is to comply with the demand for a huge amount of digital creatives, new formats, new channels, and new specs.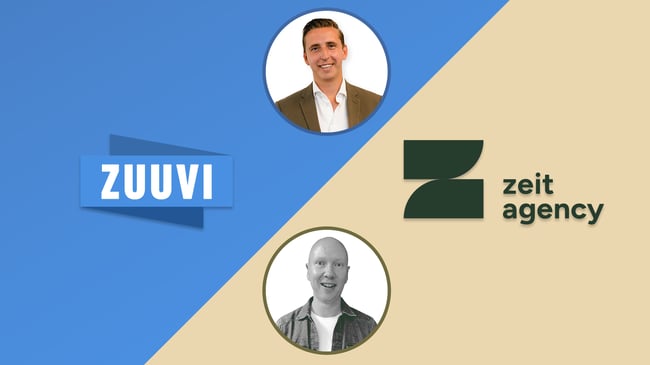 "So you are not competitors? What is the beautiful synergy between your companies?"
Behind every successful partnership lies an essence of synergy that propels their joint efforts. Here's how Zuuvi and Zeit Agency seamlessly intertwine their strengths:
Michael Lyder Andersen, Zeit Agency:
Alexander and I get this question a lot. After all, we both offer services to help businesses create digital creatives. But here's the thing: We're not competitors. We're collaborators.
You see, we both have different strengths. Zuuvi is great for businesses that want to have more control over their creative process. They have a suite of design and campaign management tools that make it easy to create stunning visuals without having to hire a big agency.
Zeit Agency, on the other hand, is the perfect choice for businesses that want to outsource their creative production. We have a team of expert designers and consultants who can take care of everything from concept to execution.
So, if you're looking for a one-stop shop for all your digital creative needs, Zuuvi and Zeit Agency are the perfect partners. We can work together to create a custom solution that meets your specific requirements. Zuuvi and Zeit are partners who are committed to helping our clients succeed.
Alexander Agustesen, Zuuvi:
The synergy between Zuuvi and Zeit Agency is, for me, the perfect toolbox of great software and skilled personal execution power.

As a modern advertiser, the need for creative production power is not static. It is a floating organism that differs from month to month. That's why we love collaborating with a skilled team like Zeit Agency. The software can never stand alone. It needs execution power to accomplish great things. Zeit Agency has exactly that execution power - not only on a decent level but at the highest possible level.

Zuuvi is the platform that enables modern marketing teams and designers to produce best-in-class creatives at scale with insights and data tied directly to the production flow.

Together with Zeit Agency, we can share the knowledge of great creative production and help the modern advertiser achieve a seamless production flow with stunning creatives as the outcome.
The partnership between Zuuvi and Zeit Agency serves as an example of how two entities with distinct expertise can come together to create something great. By combining cutting-edge technology with artistic vision, this collaboration not only propels individual creativity but also sets new standards for what is achievable in the world of design and creativity. As Alexander Augustesen and Michael Lyder Andersen continue to nurture this partnership, the future undoubtedly holds exciting prospects for the creative landscape as a whole.