New strong partnership
We are happy to announce that we have made a strong partnership with Raptor Services.
At Zuuvi, we want to empower the coolest advertisers to have the creative freedom to produce best-in-class digital ads. We want our customers to take the next step with their digital ad creation.
A partnership with Raptor enables that mission.
"We are very excited about the partnership with Zuuvi. Their platform allows companies to easily create and administrate digital ads - and now with the possibility of adding smart data to make the campaigns even more relevant. We can't wait to deliver inspiring and personalized ads to customers in The Nordics and Benelux in cooperation with Zuuvi". says Simone Vestergaard, Partner Sales Specialist at Raptor Services
DCO retargeting ads
With the help of your product data, you can create thousands of ads in a few minutes - dynamically.
Dynamic Creative Optimisation (DCO) has now levelled up as it is now possible to create dynamic retargeting ads - just like we know it from DPAs on social media.
Personalised ads give you the ability to communicate the right message at the right time through 1-1 communication - with the help of data.
The intelligent rule engine that recognises user behaviour from a variety of digital channels allows you to automatically create - and optimise - your digital creatives that have been produced in Zuuvi.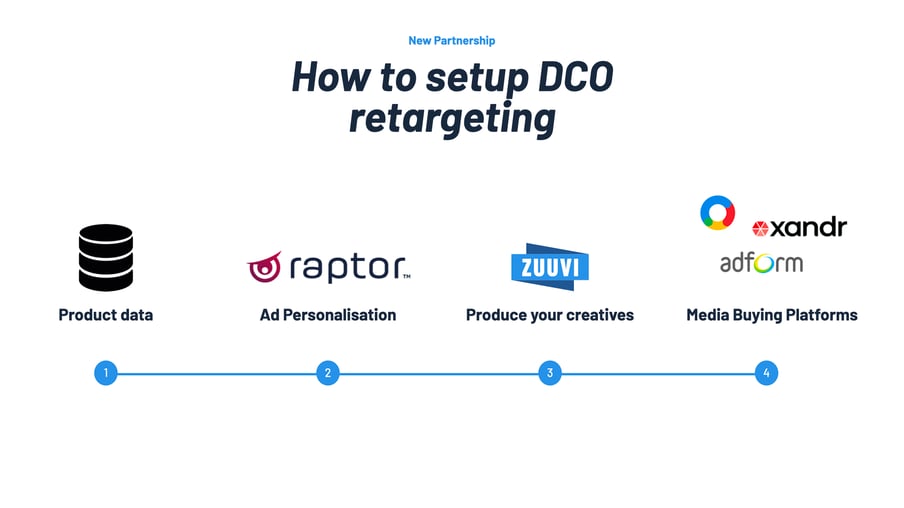 If you are interested in seeing how the setup works,
contact us here and we will give a you demo
Who is Raptor Services?
Raptor Services is a market-leading Personalization and Customer Data Platform provider. Our solutions enable brands to recognize users' behaviour across channels, offer personalized recommendations, and activate data in all channels from our Customer Data Platform. Here, brands can create individual profiles down to a 1:1 scale. This provides a complete insight into customers' interactions and powerful opportunities to personalize every touchpoint of their customer journey.
"This partnership is very important for the journey that we are on. We want to give our users every possibility to be creative in their digital advertising. We are fortunate that a cool company, like Raptor, also sees great value in working closely together. Zuuvi provides the design platform and Raptor provides the data to create even more value for our customers." says Zuuvi CEO, Alexander Augustesen.