This is a quick guide to get your HTML5 banners approved for Google Ads. At Zuuvi we have made it easy for you to upload your banners to Google Ads, but the first step is the approval.
ERROR WHEN UPLOADING HTML5 BANNERS:
If it is your first time uploading your HTML5 banners in Google Ads, you will not immediately get the access to do that. People who have been uploading HTML5 banners before the change from AdWords to Google Ads, will not meet this problem. They are automatically approved for the new platform.
This might be your first meeting with Google Ads when you try uploading your new nice looking HTML5 ads. But keep reading, we have the solution for you!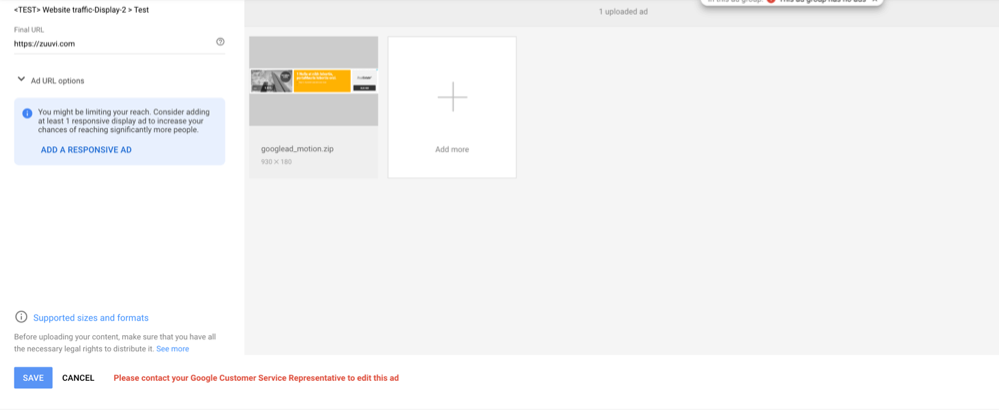 The easiest way to fix this problem is to contact your advisor from Google if you have any. If you do not have any contact person from Google, then keep reading, we will go through some possible solutions to solve this issue.
THE EASY GUIDE TO GET GOOGLE ADS HTML5-ACCESS:
If you do not have a contact person from Google then you have to enter this link into your browser: https://support.google.com/google-ads/contact/html_5_access
When you open the link it will look like this: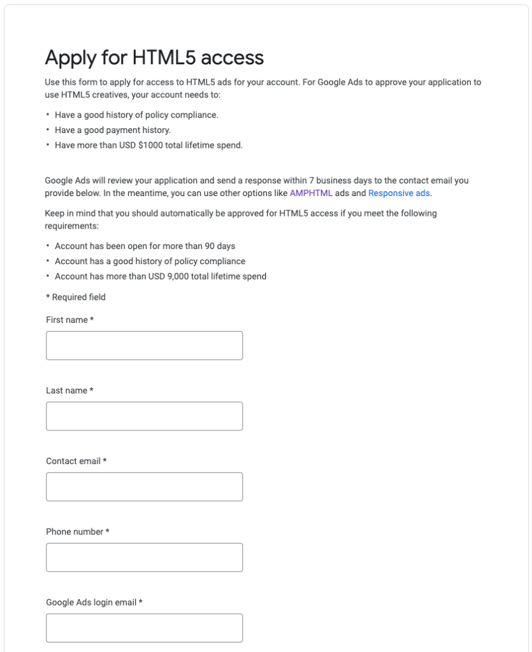 At this stage, you need to follow the formula and then Google Ads will grant you the access if you meet Google requirements. If you want to be sure not to wait a month, there are some specific requirements. We recommend checking these before applying. You can see them below.
GOOGLE ADS HTML5 REQUIREMENTS
There are some specific requirements that you will have to meet before you requesting for a Google Ads HTML5-access.
You need to have a good history in terms of meeting the general requirements from Google Ads HTML5-guideline
You need to have a healthy payment history
You need to have a lifetime spend in your account over 1000$
When your company meets these requirements, you are good to go for applying for Google Ads HTML5 Access!